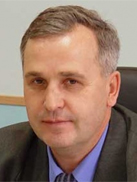 Corresponding Member of the Russian Academy of Sciences, Doctor of Physical and Mathematical Sciences, Professor.
Viktor Nikolaevich was born in 1951 in the village of Magzon, Chita region. In 1974 he graduated from the Faculty of Geology and Geophysics of Novosibirsk State University.
He created the Chita branch of the Institute of Mining of the SB RAS, as well as the Mining Scientific and Educational Center of the Institute of Mining of the SB RAS with the participation of 9 largest universities in Siberia. He is the scientific director of this Center.
The most important results of V. N. Oparin's scientific research are related to the development of the theoretical foundations of geomechanical interpretation of geophysical data, the creation of complexes of measuring instruments for diagnosing the stress-strain state of rock masses and monitoring geomechanical processes. He co-authored a number of scientific discoveries of fundamental importance in solving the problem of developing great depths for complex mining and geological conditions: the phenomenon of zonal disintegration of rocks around underground workings; the phenomenon of alternating reaction of rocks to dynamic impacts from earthquakes, rock bursts and explosions; the effect of self-organization of geomaterials with the formation of cellular structures in the form of a passive core and an active load-bearing shell; the effect of abnormally low friction in geomedia.
V. N. Oparin – member of the Presidium of the Siberian Branch of the Russian Academy of Sciences, editor-in-chief of the scientific journal "Physical and Technical Problems of Mineral Development", Deputy Chairman of the Siberian Section of the Scientific Council of the Russian Academy of Sciences on Mining Sciences, Chairman of the RISO SB RAS subsection on physical and technical sciences, member OUSNoZ SB RAS and OGGGN RAS, Chairman of the Specialized Academic Council D.003.019.01 at the Institute of Mining of the SB RAS, member of a number of Russian and foreign scientific societies. Awarded the "Person of the Year – 1998" diploma by the American Biographical Institute. His biography is included in the 7th edition of the book "500 Leaders of Influence" (USA).
Awarded the medal of the Order "For Services to the Fatherland" II class. (2007), certificate of the Government of the Russian Federation (2009).
Corresponding member since May 30, 1997 – Department of Geology, Geophysics, Geochemistry and Mining Sciences (Mining Sciences). 
Scientific interests
Nonlinear geomechanics, mining geophysics, theory of natural and man-made disasters, stress-strain state of rock masses, diagnostic and control methods, geotechnologies, monitoring.
ПЕРСОНАЛЬНЫЙ СЧЕТЧИК SCIENCE INDEX